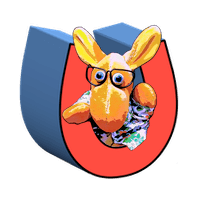 TANGURUU WILL BE HAPPY TO MEET YOU SOON
TANGURUU STORY
Almost a hundred years ago, two clever little wallabies escaped their fate in a private Hawaii zoo and ran off together into the Kalihi Valley on Oahu. Like many couples on their Hawaiian honeymoon, nature took its course and the valley became home to a small colony of the mini-marsupials. – Huffington Post 01/30/2014 – This was the place where the Tanguruu was born.
Today Tanguruu and his little son Baby Ruu live in a beautiful Jungalow on Big Island together with their best friend Tang, a crazy musician and artist and his sons. Besides Baby Ruu Tanguruu loves Chili Pepper Chocoloate and his purple couch.
Tanguruu's heroes: Steve Jobs, Jimi Hendrix, Pupetji Guru, Tang and Sheriff John, who gave him his slogan: »Laugh and Be Happy«.
LAUGH AND BE HAPPY
ALOHA